Sabbath Keeping Remnant Churches of God in Kenya
The Lord has preserved a remnant of Sabbath keeping churches in Kenya despite the advesary (the father of all lies, HaSatan) doign his best to hide the truth from mankind. Yes, it is true that man must worhsip the Father in spirit and in truth. In these end days, the truth is being poured out to those who do not harden their hearts so we can do just that.
The Church of God is growing and spreading the truth if you have ears to hear.
Our leaders got together recently to discuss what the Lord is doing accross Kenya. The pcture below was snapped and reflects our worhsip leaders from around the country.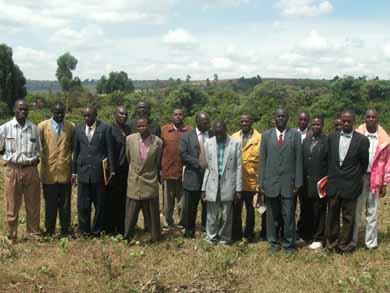 (left to right):
Aron Kinja Kiugu - Pastor from Meru
John Barta - Pastor from Shankoe
Moses Suki - Pastor from Enooretet
Jeremiah Momenyi - Board Member from North Kisii
Cornelius Kigen - Pastor from Chebole (short one in front)
James Opio - National Bishop and Chairman of SKRCG (tall one in back)
Jackson K. Olekoreo - ???
Francis Kubania Ringera - National Bishop of SKRCG from Nairobi
Jackson Kipirir - Pastor from Olenkaroni
John Silas Merube - National Trustee of SKRCG
Unknown (back row, partial view of head)
Julius Lenkume - National Bishop of SKRCG from Shankoe
Unknown - (back row)
Jonah ??? - Pastor from Shankoe
Unknown (back row, partial view of head)
Stephen Gisa - Deacon from Narok
Unknown - (back row, end)
If you are interested in leanring more or you are looking for a home congregation to worhsip we would love for you to join us. Please review our list of congregations to find a place of worhsip near you.